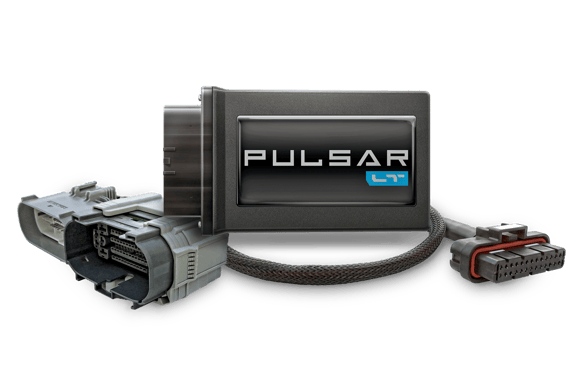 Range Technology
Pulsar LT
Customize your Silverado or Sierra, all without modifying the factory ECM or voiding your warranty.
Due to strong demand and supply constraints for this product, please allow 1-2 weeks for processing and delivery.
Estimated shipping date: 12/01/2021
Free Shipping
Starting at $39 a month with
Learn More
The Pulsar LT is a new in-line module for 2019-2021 Chevrolet Silverado 1500 and GMC Sierra 1500 5.3L/6.2L that offers complete adjustability of many features, all from your steering wheel controls. Without modifying your truck's ECM, Pulsar LT offers you the ability to adjust throttle response, tire size, gear ratio, TPMS, and your top speed limiter. Pulsar LT can also be used to disable Auto Start/Stop and Active/Dynamic Fuel Management. It connects directly to the vehicle computer system, making installation a breeze and leaving your factory warranty intact. And yes, it does work on 6.2 10-speed models!
| | |
| --- | --- |
| Brand | Range Technology |
| Emission Code | 7 |
| Product Type | Device |
| UPC | 810009939429 |
| Part Number | 22451 |
7
This part is legal under the provisions of EPA's Tampering Policy dated November 23rd, 2020. The company has reasonable basis (test results) to verify that this product allows the vehicle to operate within legal emissions standards and is therefore legal to be sold for on-street use in all states that accept the legal provisions of the Clean Air Act and the EPA Tampering Policy. This product is NOT LEGAL FOR SALE OR USE IN THE STATE OF CALIFORNIA. Testing with the California Air Resources Board, in order to achieve 50-state compliance, is pending with CARB. Once testing is complete with California, and an E.O. number is issued, this product will be updated to 50-state legal status.
Reviews
Be the first to write a review
4
5 out of 5 stars
5 star

100%

4 star

0%

3 star

0%

2 star

0%

1 star

0%
Items 1 - 4 of 4
per page
Items 1 - 4 of 4
per page
*Free Shipping & Handling only offered to the contiguous US on orders over $100, excludes clearance parts and oversized packages.
Some parts are not legal for use in California or other states with similar regulations.